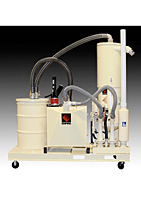 As environmental codes become more stringent, the demand for contained blasting rises. By enabling media recovery at the nozzle, Empire's Blast N' Vac® product line virtually eliminates the need to collect media manually, resulting in safer, cleaner blasting.
If you have been blasting with a single-pass abrasive, moving up to one of these self-contained units will save you time and money while eliminating many environmental headaches. The economic advantages of reusable media alone are enormous. Aluminum oxide, chilled iron and steel grit, for example, can be recycled from 6 to 200 times. Recyclable media are also more efficient and less dusty, resulting in greater productivity and a cleaner working environment.
Simple controls and easy media loading procedures make operating Empire Blast N' Vac® machines effortless. The combination storage hopper/reclaimer automatically separates fines and dust from good media, and holds it until the pressure vessel is recharged. These systems are equipped with a hose manifold for quick set up and breakdown and three different Blast N' Vac® heads as well as mufflers to attenuate sound.
Even if your application does not require containment at the nozzle, our Blast N' Vac® packages and components will save you hours of back-breaking manual labor. The Vacutrans® media transfer tool, included with these units, can be used in conjunction with other accessories to vacuum up blasting abrasives, evacuate tanks, load hoppers, or recover chips from hand tools.
<! Main # divs end -->