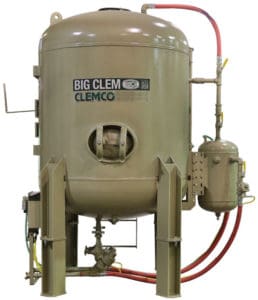 Clemco Bulk Blast Machines are supersized versions of our Classic Blast Machines. We call them Big Clems and manufacture them in three sizes: 60 cuft, 120 cuft, and 160 cuft. These machines handle large amounts of abrasive loaded at one time—and less time refilling means more time blasting. All Big Clems are equipped with two operator stations, and the 120 cuft and 160 cuft models can accommodate three or four stations. Each operator station is fitted with a pressure-hold remote control, which enables operators to independently start and stop. In addition, Big Clems can be built as stationary, yard towable, or highway towable.
Capacity
Holds 120 cuft of blast media
12,000 lbs of expendable-mineral abrasive
Operator Stations
Two operator stations
Optional three or four stations
Product Literature
©2023 All Rights Reserved.