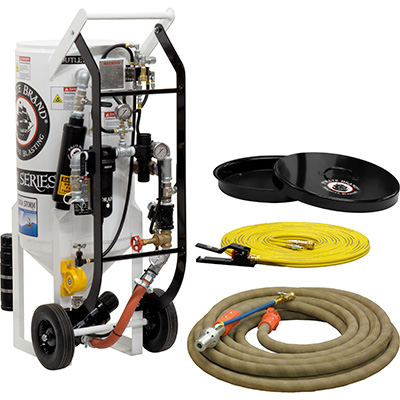 Part Number
999-8040-030PB
Description
ABRASIVE BLAST POT / SODA BLASTING MACHINE, PORTABLE, 3.5 CU. FT. (100 LITERS), 150 PSI (10.3 BAR) PRESSURE HOLD SYSTEM, SODA STORM, PNEUMATIC, INCLUDES APV II W/MULTI PORTED SLEEVE (STAINLESS STEEL), AUTO AIR VALVE, 1″ PIPING W/MOISTURE SEPARATOR, LID, FINE MESH SCREEN, LOADING SKID/VALVE GUARD, 55′ TWINLINE HOSE ASSY, CONTROL HANDLE #2, 1″ (50′) ERGO FLEX BLAST HOSE W/COUPLINGS & #5 TUNGSTEN CARBIDE WATER INDUCTION NOZZLE SYSTEM (5 YEAR / 10 YEAR WARRANTY*)
SODA STORM™ BLASTERS WILL OPERATE THROUGHOUT THE RANGE OF THE REGULATOR DOWN TO 5 PSI.
DO NOT EXCEED 125 PSI WHEN USING BLAST HOSE WITH A NYLON NOZZLE HOLDER OR COUPLINGS.
INCLUDES 100 LBS OF FREE NATRIUM SODA BLAST 260 MEDIA
FEATURES & BENEFITS OF SPH SODA STORM PNEUMATIC
A. 3.5 CU. FT. CAPACITY (100 LITERS)
1. 150 PSI VESSEL (10.3 BAR)
2. A.S.M.E. SECTION VIII DIVISION 1
3. C.R.N. FOR ALL PROVINCES
B. PRESSURE HOLD SYSTEM
1. REDUCES ABRASIVE CONSUMPTION
2. REDUCES MOISTURE PROBLEMS
3. SMOOTHER STARTS & STOPS
C. MOISTURE SEPARATOR WITH ELEMENT
1. FILTER OUT CONTAMINANTS DOWN TO 50 MICRON
D. 1″ GALVANIZED PIPING FOR CORROSION RESISTANCE
E. HEAVY DUTY FULL PORT BALL VALVES
F. EXTENDED LIFE SCHEDULE 80 HEAVY DUTY NIPPLE
1. WITHSTANDS ABRASIVE WEAR FOR LONGER LIFE
G. BOLT CLAMPS ON PUSHER LINE MAKE FIELD REPAIRS EASIER
H. NORMALLY CLOSED VALVES
1. AUTOMATIC PLUNGER VALVE II (APVII) PREMIUM ABRASIVE METERING VALVE WITH QUADRUPLE PLUNGER SEAL ARRANGEMENT SOLVES THE AIR & ABRASIVE CARRY OVER PROBLEM AS WELL AS THE PLUNGER & SEAL JAMMING PROBLEM NORMALLY ASSOCIATED WITH REGULATED LOW PRESSURE BLASTING APPLICATIONS AND/OR THE USE OF STEEL ABRASIVE, MULTI-PORTED SLEEVE ALLOWS FOR UP TO 4 DIFFERENT FIXED ORIFICES TO CONTROL ABRASIVE FLOW TO YOUR DESIRED (LB/MIN) RATE, SOLID MACHINED TUNGSTEN CARBIDE PLUNGER & SLEEVE FOR USE WITH HARD ABRASIVE APPLICATIONS, PROVIDES FAR SUPERIOR WEAR RATES AND 100% CONSISTENT TOLERANCES, 1″ CLEANOUT BALL VALVE ASSEMBLY ALLOWS FOR A QUICK AND EASY WAY TO PUMP OUT & SWITCH TO ANOTHER ABRASIVE
2. AUTO AIR VALVE FOR FAST STARTS & STOPS
3. HEAVY DUTY FILTERED CONTROL VALVE REDUCES STOPPING TIME WHEN CONTROL HANDLE IS RELEASED
I. SANITARY CLEANOUT COUPLING PROVIDES EASY ACCESS TO OBSTRUCTIONS THAT MAY BE BRIDGING OVER THE METERING PORT
J. ABRASIVE FLOW ASSIST VIBRATOR WITH CONTROLS
K. PRESSURE REGULATOR (10-150 PSIG) WITH LIQUID FILLED GAUGE
L. DIFFERENTIAL PRESSURE GATE VALVE WITH LIQUID FILLED GAUGE PROVIDES YOU WITH PRECISION CONTROL OF YOUR ABRASIVE FLOW RATE (LB/MIN)
M. BLOW-DOWN MUFFLER REDUCES UNNECESSARY LOUD NOISE
N. BLAST HOSE AND COUPLING
1. 50FT ERGO FLEX BLAST HOSE WITH NYLON COUPLINGS IS ERGONOMICALLY FRIENDLY AND HELPS ELIMINATE OPERATOR FATIGUE
O. PATENTED WATER INDUCTION NOZZLE SYSTEM (WIN)
1. MINIMUM WATER CONSUMPTION, 3/4 TO 6 QUARTS PER MINUTE
2. DUAL OPERATION AS A DRY OR WET BLAST NOZZLE
3. TUNGSTEN CARBIDE LINED FOR LONG LIFE
P. SODA STORM STANDARD ACCESSORIES
1. LID KEEPS RAIN WATER & CONTAMINANTS OUT OF THE POT
2. FINE MESH SCREEN KEEPS CONTAMINANTS LIKE PAPER FROM THE BAGS OF ABRASIVE FROM ENTERING THE VESSEL
3. VALVE GUARD PROTECTS VALVES & GAUGES WHEN TRANSPORTING
Technical Data Sheet
3.5 CU. FT. PRESSURE HOLD SYSTEM, SODA STORM, PNEUMATIC,
Parts List and Operation Manual
3.5 CU. FT. PRESSURE HOLD SYSTEM, SODA STORM, PNEUMATIC,
©2023 All Rights Reserved.