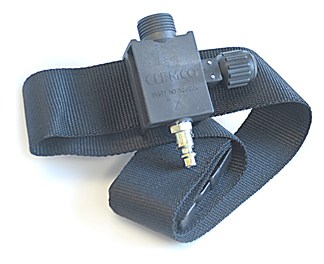 Clemco ACV Air Control Valve
The Clemco air control valve (ACV) allows the blast operator to control the volume of air to the Clemco high-pressure Type CE, continuous flow, air-fed respirator within a preset range of 7 to 15 cfm.
Requirements for Operation
15 cfm at 85 to 100 psi of Grade D quality breathing air as defined by the Compressed Gas Association Commodity Specification: G-7.1. (www.cganet.com)
Pressure requirements vary with hose length.
025 ft – 100 ft    85 psi
125 ft – 200 ft    90 psi
225 ft – 300 ft    95 psi
Description of Operation
The air control valve is placed between the respirator air supply line and the helmet breathing tube. The operator may adjust the volume of air entering the respirator. The air control valve cannot be closed completely, so the operator always has sufficient air volume for breathing and to maintain positive pressure inside the helmet.
The valve comes with a belt that adjusts to fit up to a 54-inch waist. The durable buckle can be fastened and unfastened with gloved hands.
Certifications and Approvals
The ACV is approved by NIOSH for use only with Clemco Apollo HP high-pressure Type CE supplied-air respirators (not for use with low-pressure respirators). The ACV is one component of a NIOSH-approved system; use of counterfeit parts voids the NIOSH approval. To maintain NIOSH approval, use only genuine Clemco Apollo replacement parts.
Advantages
•  Low-cost, simple operation
•  Enhances operator comfort
©2023 All Rights Reserved.