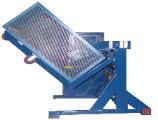 AUTOMATIC PARTS CONTAINER UNLOADER MACHINE
For minimal part on part damage while parts are discharged from vibratory finishing machines or other mass finishing equipment.
This equipment is equipped with sensors to dictate the amount of parts inside the container, as the container is filled  sensors will detect this and adjust the height and level of the container to adjacent levels until its full.
©2023 All Rights Reserved.