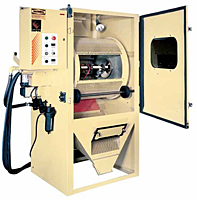 Accelerate Finishing of Small Parts
Process 300 Pounds Plus per Cycle
Deliver Repeatable Results
Empire's BB2 and BB4 Basket Blasters automate cleaning, peening and finishing of small workpieces. With certain types of parts, no other finishing method can compare to these heavy-duty production machines in terms of speed and quality results.
Operation is simple: Load parts into the unit, set the precision timer, and the Basket Blaster does the rest. By tumbling parts within abrasive blast streams, these machines deliver consistent finishes – automatically.
Empire's heavy-duty Basket Blasters feature an unloading chute to speed parts handling and a tunable media reclaimer supported by rugged ductwork to reduce maintenance requirements.
Two models are available: a BB4-3K with a 350-pound parts capacity and three pneumatically controlled oscillating blast nozzles that increase production rates while reducing power consumption, and a smaller BB2-3K unit with two fixed nozzles and a capacity of 300 pounds.
Put either unit to work and your parts finishing costs should start to take a tumble right away.
Outside Dimensions (D x W x H) Cabinet with Reclaimer 61 x 87 x 74 Inch
Outside Dimensions (D x W x H) Dust Collector 39 x 34 x 105 Inch
Cabinet Construction 14 gauge
Basket Construction 11 gauge
Reclaimer Construction 11 gauge
Basket Diameter 30 Inch
Basket Width 30 Inch
Door Opening Width 24 Inch
Door Opening Height 11 Inch
Basket Capacity 350 lbs 3-1/2 ft³
Parts Manual
Operation Manual
BB4-3K and BB2-3K Cabinet Systems Operating Instructions
©2023 All Rights Reserved.