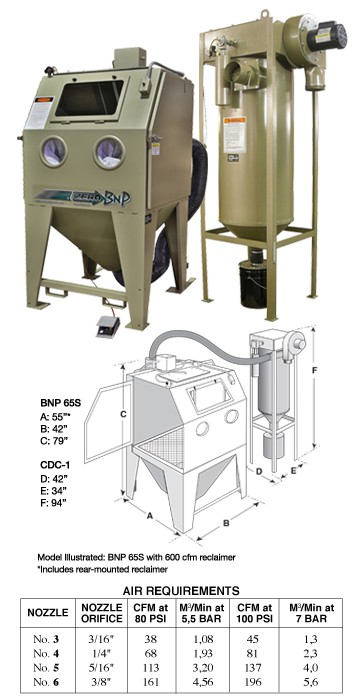 BNP 65 Suction Blast Cabinet
BNP blast cabinets deliver efficient, affordable media blasting to clean, peen, deburr, or finish parts. The BNP 65 (enclosure size: 36 by 36 by 38 inches) is available in suction and pressure blast models, and accepts popular options – turntables and tracks for heavy parts, vertical doors to speed loading, and other Options Plus modifications. Shown with 600 CFM reclaimer (rear mounted) and dry filter dust collector. Also available with optional reverse-pulse dust collector.
BNP 65 Suction Cabinets Feature:
Safety
Full-length, neoprene-on-fabric gloves resist wear and protect operator.
Ceiling-mounted, two-tube fluorescent light fixture with abrasive resistant Lexan® cover for extraordinary visibility.
Safety interlocks interrupt blasting if either door is opened. (Conforms to US regulations.)
Adjustable, heavy-duty chromed latches seal doors tight through years of service.
Productivity
Unique Air Logic system (pilot actuated) to maximize air flow to the blast gun.
Double-wall, sound-insulated doors, with industrial quality lift-off hinges.
14-gauge steel all-welded construction, with precisely formed bends, forms a rigid, long-lasting cabinet shell.
Convenience
Tilt-out window, for tool-free glass changes in minutes.
Pressure regulator, gauge, and electric switch mounted within easy reach.
Built-in blow-off gun helps keep dust inside the cabinet, not on your floor.
Common Applications
Remove rust, mill scale, heat scale, and carbon buildup from metals
Strip paint, powder coating, plating, and anodizing from parts for rework
Eliminate burrs, parting lines, flashings, and other defects from castings and injection-molded parts
Extract residual sand from castings
Beautify steel, stainless steel, aluminum, brass and other metals with a uniform matte finish
Etch artwork and lettering into glass, stone, plastics, metal and other materials
Clean release agents and material buildup from molds
Product Literature
©2023 All Rights Reserved.