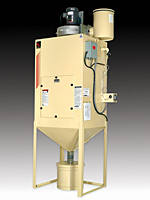 Purge Filters during Blasting
Expedite Filter Replacement
Empire's Cartridge Dust Collectors (CDC) increase productivity in three ways.
For starters, they can operate continuously; the air blast system does not have to be shut down while dust is removed from filtration surfaces.
Next, they simplify dust removal from filtration material. Push-button reverse jet-pulsing, a standard feature on all three CDC units, enables an operator viewing a minihelic gage-which monitors pressure drop across the filter-to purge dust while the air-blast system is operating. Alternatively, an optional photohelic upgrade moves dust from filtration surfaces to a collection drum automatically-at the right time and without operator involvement.
Finally, the collection cartridges, once worn, can be quickly and easily removed and replaced through a large access door.
Empire's Cartridge Dust Collectors extend operating cycles, maximize "up" time and reduce maintenance costs-all adding to higher profit.
Blower Assembly 1-1/2 hp
CFM/Static Pressure 600/6″
Electricals 230/60/1
Cleaning Manual reverse jet pulse
Filtration Area 452 ft² through 2 cartridges
Waste Drum Capacity 16 gal
Enclosure Size 35 x 40 x 116 Inch
Technical Data Sheet
Empire Cartridge Dust Collectors
©2023 All Rights Reserved.