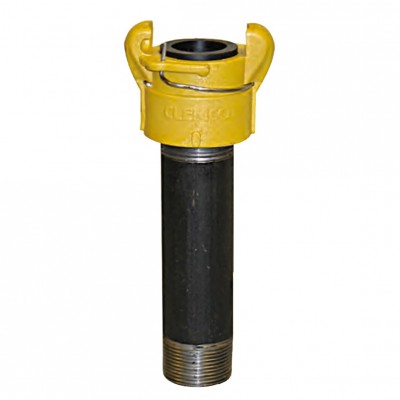 Clemco CFP, Threaded Quick Couplings
Fiber-reinforced 1-1/4-inch threaded nylon quick coupling to fit abrasive blast machine outlet. Comes bonded to schedule 80 pipe.
Description of Operation
The CFP coupling attaches at the blast machine pusher line outlet and allows quick coupling with any blast hose fitted with Clemco quick couplings.
Advantages
• Fiber-reinforced nylon material springs back from most impacts that would dent or deform metal couplings
• Built-in lock-springs eliminate need for safety pins
• Lighter weight than metal couplings
• Injection molded for precise dimensions, ensuring positive fit
Model No.


Stock No.

Pipe Attachment Dimen.

For:

CFP-2C


21733

1-1/4″ x 6-1/2″

2 cu ft Contractor Machine

CFP-4C


21734

1-1/4″ x 6-1/2″

4 cu ft Contractor Machine

CFP-6C


21735

1-1/4″ x 10″

6 cu ft Contractor Machine

CFP-P

10806

1-1/4″ x 3″

All standard blast machines
with 1″ or 1-1/4″ piping
©2023 All Rights Reserved.