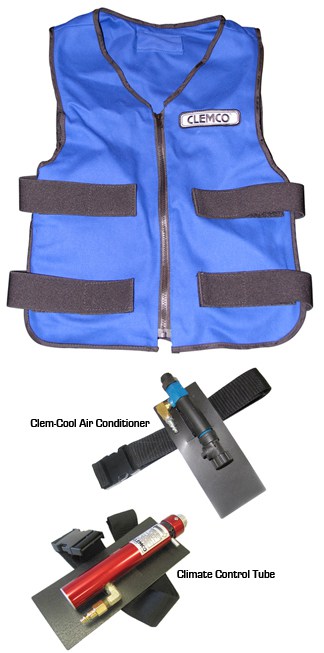 Cemco Comfort Vest
The Clemco Comfort Vest is a lightweight, one-size-fits-most personal protective garment for warming or cooling industrial workers exposed to stressful hot and cold environments indoors or out.
It can be used in a variety of workplaces and industries where workers are exposed to heat or cold that may affect their health or performance. The vest operates on 20 cfm of compressed air. Directional air jets located on chest and back panels emit generous air streams to the upper back and chest areas offering upper body cooling, or warming, depending upon the air conditioning device chosen.  Once connected to the air supply, the vest provides immediate and continuous comfort.
For abrasive blasting, the vest is worn beneath the respirator cape and under the blast suit. Grade D air quality must be used when worn by a worker also wearing a respirator because air from the vest exits beneath the respirator cape. The vest air supply is separate from the breathing-air supply.
For cooling only, attach a Clemco Clem-Cool Air Conditioner to the vest air-supply tubing; air volume and degree of cooling are easily adjustable, even with a gloved hand.  The Clemco Clem-Cool can cool incoming air up to 50 degrees F*.
For cooling or warming, attach a Clemco Climate Control Tube, which warms or cools incoming air between 30 and 40 degrees F*.
Product Literature
©2023 All Rights Reserved.