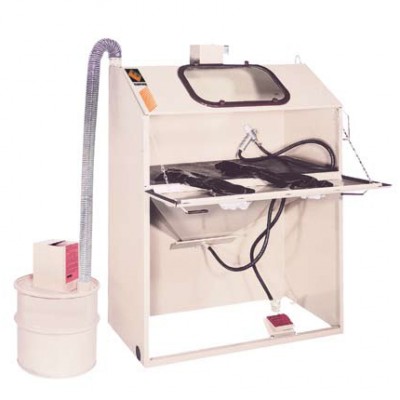 Economical Systems for Light-Duty Stripping, Cleaning and Finishing
Empire's inexpensive Econo-Finish® blast cabinets feature a unique front-access door to simplify loading of parts, save floor space and speed finishing operations.
Designed for light-to-medium cleaning and surface finishing jobs, these economical cabinets combine sturdy, 14-gauge steel construction with the features you need to perform a wide range of finishing tasks. All Econo-Finish cabinets are equipped with a foot-treadle blast control for ease of operation, an external media regulation device, quick-change safety glass and a dust-collection system.
In addition, you can select from upgraded features such as production-quality blast guns, a pressure regulator with gauge, long-life blast nozzles and a high capacity dust collector that extends operating intervals between clean-outs. Our DC-16 and DC-30 dust collectors feature a cartridge filter with 16-gallon and 30-gallon dust capacities and built-in silencers.
Econo-Finish cabinets are available in two basic configurations: models with two-piece, swing-down and flip-up doors for maximum interior access and an even more economical unit with a swing-down door only. Models with two-piece doors can be specified with a standard upgrade package designed to extend usage and maximize production.
Model Number EF-2436B
Overall Dimensions, Cabinet (D x W x H) 24 x 36 x 65 Inch
Interior Dimensions (D x W x H) 24 x 36 x 23 Inch
Door Opening Width 35 Inch
Door Opening Height 23 Inch
Door Type Double
Weight 235 lbs
Type Basic Unit
Technical Data Sheet
Econo Finish Cabinets Brochure
Parts Manual
Econo-Finish Cabinets Parts Book
Operation Manual
©2023 All Rights Reserved.