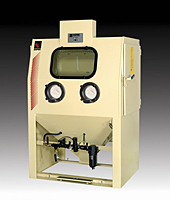 Strip Delicate Surfaces Fast
Eliminate Hazardous Chemicals
Empire's FaStrip® cabinets provide a safe, efficient alternative to chemical stripping and cleaning of parts. Designed specifically for use with plastic media, FaStrip cabinets strip coatings from metallic and composite materials quickly and thoroughly without adverse effects on substrates. Materials on which these plastic media cabinets create the necessary etch for superior bonding of new coatings include Alclad and anodized aluminum, titanium, steel, Kelvar, fiberglass, carbon graphite and magnesium.
Built for non-stop production, our rugged FaStrip cabinets combine a tunable reclaimer with a highly efficient dust collector to improve finishing results and reduce media costs. These units also incorporate Empire's patented Sure-Flo® Media Regulator to assure smooth, consistent flow of plastic abrasives. All FaStrip cabinets can be ordered with a variety of factory options designed to meet your particular application requirements.
High-intensity lighting, a venturi blast nozzle with lightweight blast hose, and abrasion resistant operator gloves boost productivity.
Our patented automatic Sure-Flo media regulator works in concert with an MG-78 CR exhaust valve and vibrating screen to assure smooth, consistent flow of plastic media.
Model Description FaStrip 3660 PRC-9
Number of Doors 2 Standard
Dust Collection DCM-200A
Blower Motor 2 hp
Shipping Weight 1975 Pound
Technical Data Sheet
Parts Manual
©2023 All Rights Reserved.