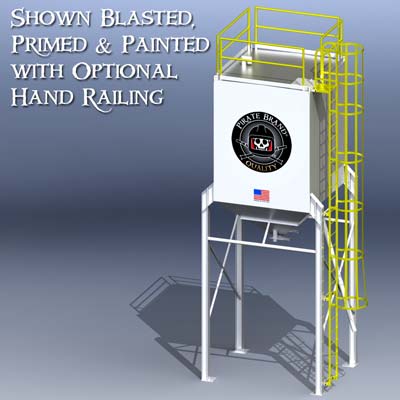 Part Number
888-1107-725PB
Description
HOPPER, STORAGE, 725 CU. FT. (20,500 LITERS), WITH REMOVABLE LADDER AND CAGE BARE STEEL NO PRIMER
ALSO AVAILABLE BLASTED & PRIMED PART # 888-1107-72501PB
ALSO AVAILABLE BLASTED, PRIMED & PAINTED PART # 888-1107-72502PB
FEATURES & BENEFITS
PAD EYE DESIGN AND STRUCTURAL ANALYSIS PROVIDED BY REGISTERED PROFESSIONAL ENGINEER IN MECHANICAL ENGINEERING.
A. 11′ – 1.5″ DRIVE-THRU CLEARANCE
B. WEIGHT EMPTY – 8,300 LB.
C. LIFTING LUGS BUILT TO SePCo & BHP STANDARDS
D. INCLUDES LADDER CAGE – DESIGNED TO OSHA 29 CFR STANDARDS FOR:
– RUNG SPACING
– SAFETY CAGE DESIGN
– RUNG DISTANCE TO GROUND
– LADDER SPACING FROM STRUCTURE
E. DUAL ABRASIVE DISCHARGE SPOUTS WITH OPEN/CLOSED GATES AND 4″ CLEANOUT CAP PROTECTED BY UNIQUE DRIP RAIL
1. ONE GATE PIPE EXTENDS TO THE SEAM OF THE BOX AND CONE ALLOWING THE USER TO KNOW THERE IS ABOUT 5 TONS OF ABRASIVE REMAINING.
F. ABRASIVE STORAGE CAPACITY
1. 640 CU. FT. / 32 TONS MAXIMUM / 18125 LITERS
G. DESIGNED CAPACITY ASSUMES 100 (LB. / CU. FT.)
H. LARGE MANWAY FOR INSPECTION
I. RAINPROOF ROOF VENT
J. UNIQUE ONE-PIECE SLOPED ROOF "WATERSHED"
K. 4″ GROUND LEVEL FILLER PIPE WITH A MALE CAM-LOCK COUPLING
L. MADE IN U.S.A.
SHIPPING NOTE: OVER ALL HEIGHT LAYING DOWN FOR SHIPPING IS 123-1/8″
! MUST BE SECURED TO A SOLID CONCRETE FOUNDATION
©2023 All Rights Reserved.