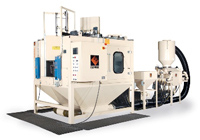 This programmable, indexing turntable machine reduces per-unit cleaning costs on piston rebuilds by over 30 percent compared to previous methods.
By coordinating the movements of 16 blast guns, oscillating vertically and horizontally, with spinning work stations on a rotating platform, the system ensures thorough coverage and fast cleaning in a single pass.
Eight guns oscillating vertically clean the sides and skirts of the pistons. The guns sweeping horizontally clean tops and interiors.
Technical Data Sheet
©2023 All Rights Reserved.