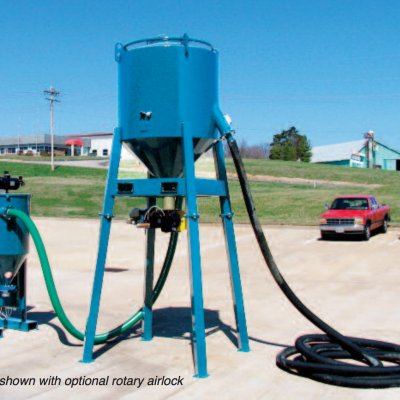 MB Series Vacuum Systems
Clemco MB Series Vacuum Systems are rugged yet simple solutions for job site abrasive recovery and clean up. Five sizes provide recovery rates from 2 tons to 35 tons per hour at distances up to 400 feet. Each system is engineered for targeted recovery rates and distances.
Each job site presents variable conditions and unique challenges. Even when weather is ideal, the recovery rate may vary and will depend upon many factors, among them: job site layout, abrasive loading method, conveying hose length and configuration, and operator skill.
System components are connected by suction hose, allowing for flexibility to suit the job site layout.
MB systems include the suction module, storage hopper, conveying hose and pickup tools. The suction module comprises: an electric-driven rotary blower, an acoustic-baffled housing, an auto-sequenced reverse-pulse dust collector with PLC timer, and exhaust silencer. The dust collector features heavy-duty cartridges, for long wear life, and easy access doors to the filter bank.
MB systems are completely portable, as they are supplied with lifting eyes and forklift pockets, and the housing of each unit is specially reinforced to withstand the harshest of conditions. These vacuum systems are powered by enclosed electric-driven rotary blowers, ranging in HP from 20 to 150. The blowers are low-maintenance, low-power consumption, and are air-cooled guarding against overheating. The acoustic housing ensures a quiet operation. Systems are configured for steel abrasive and also for mineral/slag abrasives. Choose the appropriate system for the application
©2023 All Rights Reserved.