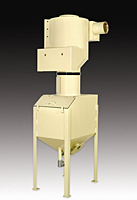 Media reclamation can be one of the most critical aspects of air-blasting processes. In addition to media costs, reclaimer performance affects operating speed and quality. Failure to remove dust and fines has an adverse effect on consistency and productivity. If oversized particles are returned to the blast system, for example, clogging and/or inconsistent results often occur.
Pro-Finish reclaimers provide precise control of media recycling. These reclaimers can be adjusted to control the recovery of fine, medium or coarse working materials while removing unwanted particles from the blasting process. As a result, you enjoy reduced media costs as well as consistent, high-quality results. All Pro-Finish reclaimers deliver 99% efficiency, include a screen to prevent over-sized particles from clogging, provide an easy-open access door for quick cleaning and filling, and feature 12-gauge construction for extended service life.
©2023 All Rights Reserved.