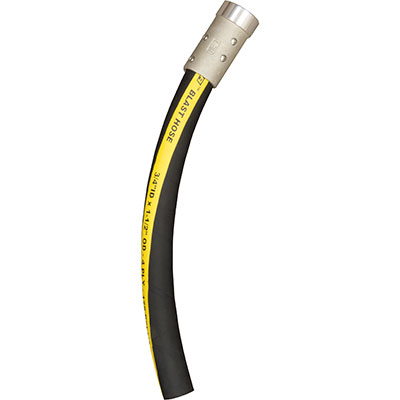 Part Number
888-4115-005PB
Description
BLOWDOWN HOSE ASSY, 3/4″ x 18″, SURVIVOR™, 4 PLY, WP 150 PSI (1-6 BAG)
Product Notes:
WITH TWICE THE ABRASION RESISTANCE*, SURVIVOR™ BLAST HOSE COMPOUND OUTPERFORMS TYPICAL BLAST HOSE.  WHAT DOES BLAST HOSE WITH 2X THE LIFE MEAN TO YOU:
1/2 THE DOWN-TIME DUE TO CHANGING HOSES
BLAST HOSE THAT CAN LAST THROUGH THE BIG JOBS
WHIP HOSE THAT WEARS LIKE STANDARD BLAST HOSE
THE RIGHT HOSE FOR THE TOUGHEST APPLICATIONS
MORE PRODUCTION TIME FOR AUTOMATED MACHINES WITH TOUGH-TO-CHANGE BLAST HOSES.
©2023 All Rights Reserved.