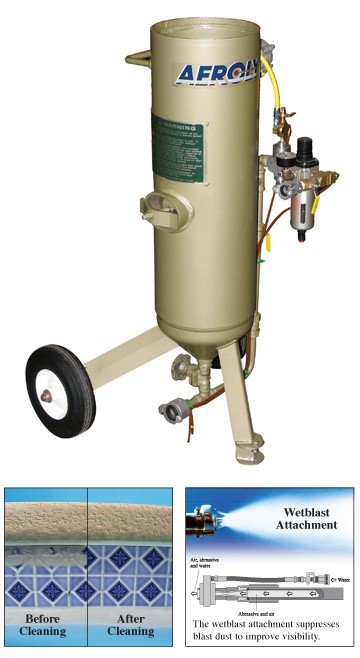 The Aerolyte Pool Pal is a field-portable, light- to medium-duty blast machine ideal for the pool contractor for cleaning pool tile and other surfaces. Built to suit the busy contractor's needs: a one-cubic-foot model, 1042PP comes with a 1/8-inch orifice blast nozzle, which consumes as little as 17 cfm (cubic feet per minute) of compressed air. The Pool Pal is designed for all types of lightweight, fine-mesh media, making it suitable for other blast jobs where lightweight, fine-mesh media or abrasives are used.
Model 1042PP is a 10-inch diameter pressure vessel (rated 125 psi working pressure), which holds one cubic foot of media. A 1/8-inch nozzle consumes 17 cfm of air at 80 psig. Approximately one cubic foot of media provides 30 minutes of non-stop blasting before refill. Its sleek shape makes it easy to move around and fill with media.
The basic model includes OSHA required remote controls, a lightweight fine-mesh media metering valve, and an air filter/moisture separator. When purchased as a Pool Pal Package, coupled 1/2-inch ID blast hose, 1/8-inch orifice nozzle, a wetblast attachment, and blast machine screen and cover are also included.
Product Literature
©2023 All Rights Reserved.