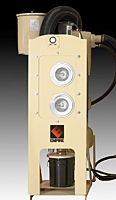 To ventilate blast cabinet for visibility and cleanliness.
Provides energy to convey media to the reclaimer for separation
Filters dust-laden air and discharges clean air to shop.
Allows the operator to clean the cartridges during operation.
Free standing with 5 gallon pail underneath for dust removal
©2023 All Rights Reserved.