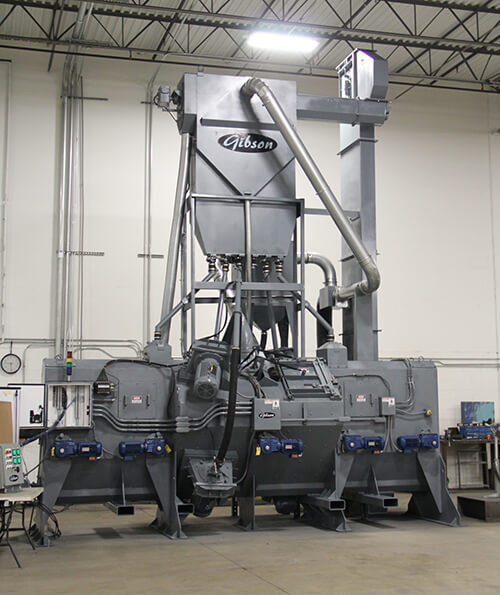 The Gibson roller conveyor blast system is a fully automated blast system designed for 24 hour production. Systems are typically used in applications blasting heavier parts at a high rate. Blast systems are easily integrated into the rest of the production flow such as paint lines.
Gibson roller conveyor blast systems offer the ability to utilize a blasting machine in conjunction with another machine to automate a process reducing high labor costs normally associated with batch type blasters. They come in many different blast envelopes. They also come with multiple blast wheels and horse powers with a level of speed and efficiency unmatched by other equipment manufactures.
By flowing these parts within the blast envelope, these machines deliver consistent results automatically while working non-stop in a multi-shift production facility.
Gibson Structural Steel Shot Blast
The Gibson structural steel shot blast system is designed for descaling and cleaning structural shapes before or after fabrication. Blast Envelopes start at 24" wide and 36" high cleaning envelope. They come in many different blast envelopes.
Skew Roll
Skew roll blast systems, also known as inclined v-shape rollers are designed to clean pipe or any other long and round material. The V shaped conveyor not only keeps round parts in place but also rotates them 360 degrees while conveying them through the blast chamber.
Billet Blast Systems
Gibson's Billet Shot Blasting systems descale and derust billets. Billets are heavy steel bars and are usually made in either continuous casting or hot roll lines. Before inspection, the billets must be free of rust and scale.
Roller Conveyor Typical Applications:
Mill Scale Removal
Structural Steel
Paint Preparation
Profiling
Inspection
©2023 All Rights Reserved.