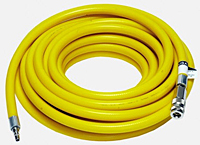 The RPB Breathing Airline Hose is manufactured from food grade Poly Vinyl Chloride designed to provide you with clean air every time.
With the bright color the airline can be easily distinguished from regular airline and also is easily visible on the job site so it is not a tripping hazard.
The airline is available in 25ft and 50ft sections and come complete with a quick release coupler. The RPB coupler is designed for the harsh conditions, it has a sealed sleeve with an internal o ring to stop dust and abrasive getting into the mechanism. RPB products are designed to last!
©2023 All Rights Reserved.