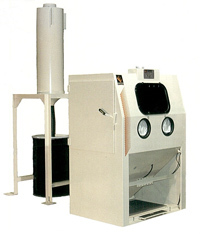 Gentle on Work Surfaces and Compatible with Your Pressure Vessel
Empire SafeStrip™ cabinets contain the blast process during the cleaning and stripping of delicate surfaces. They are designed to work in conjunction with our SafeStrip portables as well as other pots capable of delivering fine media.
With a SafeStrip system, you can quickly and safely remove old coatings, dirt, oil, corrosion and other unwanted residues from soft metals, rubber, plastics and other sensitive surfaces. SafeStrip is ideal for work on tools, machine parts and molds, and in many other applications requiring a "light touch". SafeStrip systems assure even flow of light media by creating a differential between the pressure vessel and blast pressure. This pressure differential, which can be adjusted precisely with a manual valve, prevents bridging and produces consistent feed rates.
When used with non-toxic abrasives, such as bicarbonate of soda, SafeStrip systems are environmentally safe, as long as materials being removed from the work surface are also non-toxic.
Interior Dimensions (D x W x H) 36 x 48 x 36 Inch
Overall Dimensions (D x W x H) 38 x 54 x 72 Inch
Door Opening Height 32 Inch
Door Opening Width 29 Inch
Number of Doors 2 Standard
Blast Hose 1/2 ID x 10 ft.
Nozzle 3/16 ceramic
Dust Collector DCM-200/1-1/2 hp
Technical Data Sheet
Pro-Finish Systems Buyers Guide
Parts Manual
Operation Manual
SafeStrip® – Cabinet Integration Operating Instructions
©2023 All Rights Reserved.