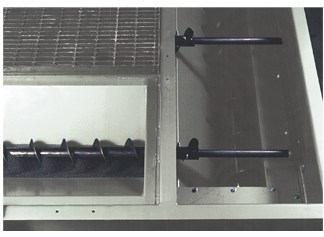 Designed primarily for use with steel grit and shot, our screw conveyor recovery module with bucket elevator can continuously reclaim up to 180 cubic feet of media per hour.
Available in standard lengths of 8, 12, 20 ft., and up to 50 feet by special order, screw systems feature rigid helicoid 6-inch by 1/4-inch thick flights. Built-in metering plates eliminate concerns of overloading – even with a frontloader filled with steel grit.
Because they are used most often with steel grit and shot, most screw recovery modules are mounted in a pit so the heavy media can be pushed into them with skidloaders or other methods.
Product Literature
©2023 All Rights Reserved.