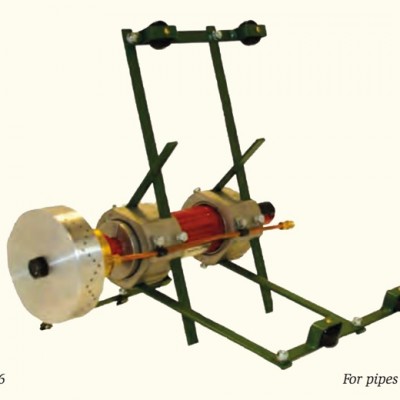 Spin-Kote
Clemco Spin-Kote pipe coating tools are designed to apply coatings to the internal surface of pipe from 2″ to 96″ inside diameter. The tools utilize most airless pump systems. The spray heads are pneumatically driven and can apply coatings of varying viscosity and composition. All Spin-Kote tools include manually adjustable carriages which center the spray heads in the pipe. Attaching a lance eases movement through the pipe to prevent paint defects and holidays.
For high-production jobs, some customers use a gear motor or variable-speed drive to pull the tool through the pipe. This customer-provided mechanized alternative to manually drawing the tool from the pipe ensures a consistent paint application.
Operation
Paint is applied in a 360° pattern by the centrifugal force of the spinning spray head. The coating material is fed to the spray head through a fluid manifold for maximum, even, distribution. The volume of coating material is adjusted by changing the pressure on the paint pump or by changing the media orifice used in the back-pressure assembly. Coating thickness is controlled by the speed at which the Spin-Kote is moved through the pipe.
Applications
The Spin-Kote can be used with any coating that can be applied with an airless spray system. Typically, pipes are coated internally for potable water applications, corrosion protection, reducing pipe maintenance, and making pipe inspection easier. Coating pipes internally provides a defect free surface, which greatly increases the flow of material through the pipe.
Description Stock No.
Spin-Kote 25 for pipe ID 2″ to 5″………………..27020
Spin-Kote 512 for pipe ID 5″ to 12″………………27021
Spin-Kote 817 for pipe ID 8″ to 17″………………27022
Spin-Kote 1236 for pipe ID 12″ to 36″…………….27023
Spin-Kote 4896 for pipe ID 48″ to 96″…………….27024
©2023 All Rights Reserved.