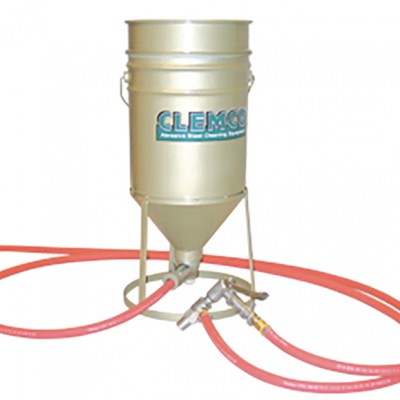 Clemco Suction Gun
The Clemco suction Gun is a light duty suction type blast unit where limited air supply is available or desirable.  Inexpensive to purchase and operate, the gun is utilized for maintenance touch-up, removal of burrs and tool marks from machined parts, paint removal from fiberglass or soft materials such as aluminum.  Used with the recommended 30 mesh (or finer) slags or similar abrasives or 80 mesh (or finer) steel grits, the material supply to the nozzle is even and steady.  The squeeze-trigger start/stop provides positive operator control at the nozzle.
The Suction Gun is delivered complete with screened hopper, 5/16 inch tungsten carbide nozzle with 1/8 inch jet, 10 ft. 1/2 inch I.D coupled air line.
Product Literature
©2023 All Rights Reserved.