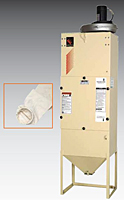 Our bag-house dust collectors meet the needs of most industrial air-blast operations at a lower cost than cartridge collectors. Plus, the ability to capture 99% of all particles one micron or larger normally permits recirculation of air to the workplace.
In addition, we offer options to automate bag cleaning and reduce noise.
Available in cartridge and bag-house designs, Pro-Finish® dust collectors improve working conditions while reducing maintenance and operating costs. By capturing 99% or more of all particles one micron or larger, these efficient dust collectors permit filtered air to be recirculated into the plant, thus providing significant savings on heating and air conditioning.
Features shared by both designs include:
14 gauge, reinforced construction
Fan blade on clean-air side for long life
Raised clean-out opening for fast waste removal
Top-clean air discharge for operator comfort
Push-button control for thorough cleaning
©2023 All Rights Reserved.