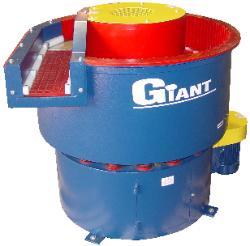 This vibratory finishing machine has a spiral bottom design that allows for part separation, manual or automatic.
Spiral bottom machines feature 100% separation of parts and media with specially designed cast urethane screens. We custom make these screens based on your parts sizes and media chosen for your process. We have made it possible to fully automate the entire finishing process after the loading of parts, the machine will start, process, then unload your parts.
Different finishes are acquired not only through the correct compound and media selection, but also fine tuning of the drive electronically. Do not overlook this standard feature if you process a variety of parts and desire different finishes for each one.
STANDARD FEATURES:

Variable speed drive
Capacity 3 to 40 Cubic Feet
Heavy duty bowl & base weldment
Removable cast polyurethane drain plug
J.I.C control panel
Polyurethane lining
Tuned Coil spring suspension
Drop – on weight segments
Removable cast urethane screen
Adjustable amplitude flywheel
Media discharge door
Parts discharge ramp
OPTIONAL FEATURES:

PLC Controls
Auto pre-mixing compound system
Auto Lubrication System
Air Dam
Sound Cover
Automatic Gate Cleaning
High/Low PH Package
Wrap Around Settling Tank
©2023 All Rights Reserved.