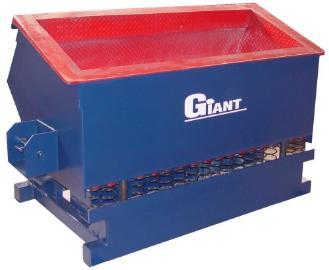 Giant Finishing GT Series vibratory deburring equipment and mass finishing machine systems have a variable speed and adjustable eccentric weights which permits deburring action ranging from very aggressive to very gentle action for fragile parts finishing.
All Giant Finishing vibratory machines feature our off-set balanced suspension, variable speed, and low work height. For aggressive finishing of iron casting or polishing molds a Giant Finishing GT will work the part and get a great finish.
STANDARD FEATURES:

Off-set Balanced drive
Variable speed drive
Curved/Rounded Rear Tub Wall
90 Durometer polyurethane lining
Flo-Spray piping and liquid drain
Ideal working height – Low Profile
Electrical control panel with process timer
Coil spring suspension
Plug type discharge door with quick action

manual lock

3 to 200 Cubic Feet capacity
Tub diameters 14″ to 60″
©2023 All Rights Reserved.