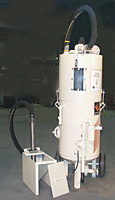 The easy way to refill
SuperBlast® pot not included
Fast, efficient tools for pneumatic recovery of air-blast media
Empire's Vacuum Recovery Systems (VRS) quickly and economically recover media to all Empire SuperBlast® portables, as well as other pressure pots with diameters of 18, 24 or 30 inches.
These pneumatically powered systems convey as much as 140 pounds of A-36 aluminum oxide per minute – more than 8,000 pounds an hour – up a nine-foot lift with 200 cfm of air at 100 psi. Standard models, using only 100 cfm, are available for less demanding applications.
Empire Vacuum Recovery Systems feature rugged welded construction and a durable finish. Standard equipment includes:
Storage hopper with viewing window
High-velocity venturi head
Two-inch adjustable carburetor
Floor-load hopper with trash screen
Two-inch inlet and outlet connections
Options are available for "pull-chain".
Empire's Vacuum Recovery Systems fit smoothly with all SuperBlast portables and most other pressure pots with diameters of 18, 24, or 30 inches. VRS works with "pull chain" pots, too.
Floor hopper, including a trash removal screen, facilitates media recovery on work sites and within custom blast enclosures. Hopper may be recessed in pit for sweep-in collection of abrasives.
Empire's Vacutrans™, a high-velocity venturi head, enables retrieval of media at rates exceeding 8,000 pounds per hour. Optional silencers and exhaust-hose extensions are available for sound attenuation.
Silica sand is not to be used in any Empire blast equipment.
Operation Manual
©2023 All Rights Reserved.