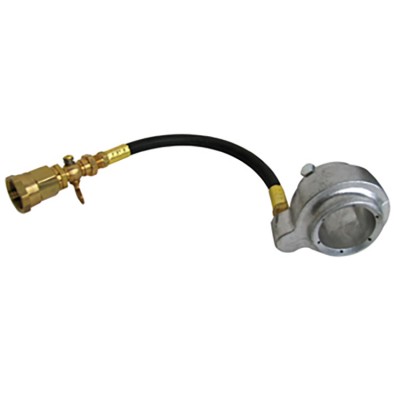 Wetblast Attachment
The Clemco Wetblast Attachment is a practical addition to conventional dry blasting.  Used by building and painting contractors, shipyards and refineries, the Wetblast Attachment eliminates about 80% of the dust without lowering blast efficiency.  It is uniquely suited to jobs in metropolitan areas or cleaning of masonry and concrete surfaces where excessive dust is generated.  When used to blast steel surfaces, a rust inhibitor is recommended.  The inhibitor may be sprayed on the surface immediately after blasting or can be mixed in a water tank equipped with a pump and sprayed through the wetblast head during blasting.
The Wetblast Attachment head, equipped with locking screws for mounting to the barrel of a nozzle, provides an operational advantage by mixing the water into the blast pattern just after air and abrasive leave the nozzle.  This provides a larger blast pattern and eliminates the stoppages occurring with systems which mix or carry an abrasive/water slurry through the blast hose.
The uniform spray of the Clemco Wetblast Attachment is achieved by six 3/32 inch water jets which surround the nozzle and direct the water flow to a point 3 inches in front of the nozzle.  As the water hits the air/abrasive stream it atomizes to envelop the abrasive particles.  The water volume is metered by a full flow petcock located at the blast head.   Pressure ranges of 30 lbs. to 60 lbs. (city water pressure) are acceptable.  50 ft. x 1/4 inch I.D. water hose is available for use with Wetblast Head.  Hose fittings attach to standard water hose or faucet.
©2023 All Rights Reserved.