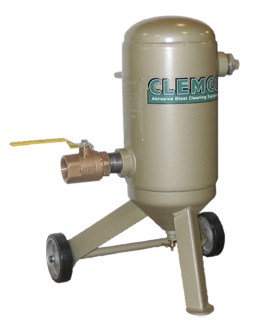 High Volume Compressed Air Coalescent Filter
Portable 800-cfm capacity Coalescent Filter removes water from the compressed air supply for multiple blast machines and other pneumatic tools requiring a dry, high-volume air supply. Two 6-inch wheels and a rigid handle allow one person to move the Coalescent Filter along a smooth, level surface. The filter has one outlet and a manual petcock to drain accumulated moisture.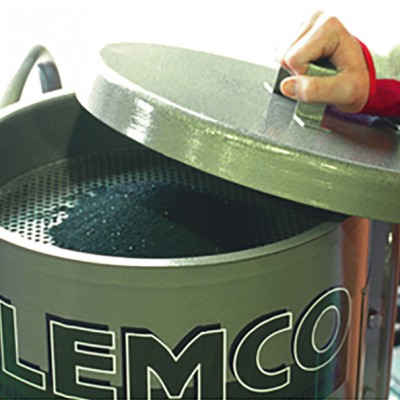 Blast machine screens and covers help keep contaminants from entering the blast machine. Recessed screens keep out particles larger than 1/4-inch diameter. Steel covers fit on top of the blast machine (with or without the recessed screen in place) to keep out rain. Moisture interferes with most blast media and cause blockages in the blast machine valves and plumbing.
Description of Operation
The recessed steel screen fits into the concave head of the blast machine. The operator places one or more bags of abrasive onto the screen and cuts the bag(s) to allow abrasive to flow through the precisely sized holes in the screen to fill the blast machine.
The recessed screen can be used with bulk abrasive loading systems.
When not in use, the blast machine should be covered to prevent moisture or airborne trash from falling into the pressure vessel.
The heavy poly bag cover fits over the entire blast machine to protect the pressure vessel from weather.
Steel Screen
Keeps work-site debris out of blast machine to prevent work stoppages
Allows steel cover to be used without removing screen
Durable heavy-gauge steel construction
1/4″ mesh opening size
03362 (10″ Dia.)    11-1/4″ x 10-1/4″ x 6″    4.5 lbs
03099 (16″ Dia.)    15-1/4″ x 16-1/2″ x 3″    4.5 lbs
20357 (20″ Dia.)    19-1/4″ x 20-1/2″ x 3″    6.5 lbs
03100 (24″ Dia.)    24-1/2″ x 23-1/4″ x 3″    8.5 lbs
Optional Steel Cover
Durable heavy-gauge steel construction withstands work site use
Heavy construction stays in place in windy environment
03107 (10″ Dia.)    11″ x 1-1/2″    3.5 lbs
02335 (16″ Dia.)    17″ x 1-3/4″    5.5 lbs
20358 (20″ Dia.)    21″ x 1-3/4″    8.5 lbs
02336 (24″ Dia.)    25″ x 1-3/4″    10.5 lbs
Poly Cover
Covers entire blast machine
Keeps machine clean and dry
15097 (16″ & 20″ Dia.)      45″ x 54″     1.5 lbs
15143 (24″ Dia.)               45″ x 68″     2 lbs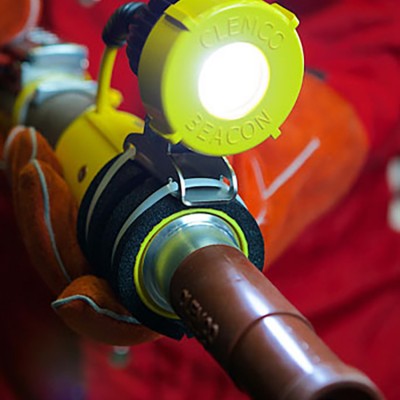 Clemco Beacon Blast Light
The Clemco Beacon Blast Light is a powerful 860-lumen LED light source to illuminate the work surface. Four assemblies are available: 12-volt DC and 120-volt AC models with either 50 ft or 100 ft of power cord.
Purpose
The Clemco Beacon blast light provides illumination of the work area to improve the visibility of the blast surface for the blast operator and enhance productivity. It is ideal for poorly-lit areas or where natural light is absent.
Operation 
The light module mounts either to the blast nozzle holder or to the blast hose, secured with cable ties. The rugged, cut resistant 18-gauge cable is tied along the length of the blast hose. A quick-change assembly allows easy lens replacement when abrasive rebound frosts the durable Pyrex® lens.
Advantages
Illuminated target surface improves blast operator productivity
Extremely bright focused LED beam provides 6000k color temperature (similar to daylight on a sunny day)
Unit is compact, lightweight, and rugged—perfect for brutal abrasive blast environments
Mounts to nozzle holder or blast hose
Quick-change twist-lock lens retainer allows easy removal and replacement of the Pyrex® lens
Features
Beam capable of penetrating up to 280 feet
Ultra-compact size at just 2 7/8"OD x 4"H x 3"D
Encased in durable, lightweight aluminum housing with abrasive-resistant nylon lens adaptor
Integrated pulse width modulation controller provides protection against voltage spikes and maximizes the light's duty cycle in terms of heat management
Cree XLamp MC-E® LED is shock- and vibration-resistant
Easily replaceable Pyrex® lens
<! Main # divs end -->