Cemco CPF 20 and CPF 80 Air Filter
Clemco's CPF in-line air filters remove moisture, oil, and dirt particles from compressed air before it reaches your respirator. Multi-stage filtration system includes activated charcoal to eliminate odors and improve the "taste" of your breathing air. Available for one to four air lines; used with HP Model respirators.
NOTE: CPF filters do not remove CO or convert CO to CO2, or remove other toxic gases.
Model CPF-20 for up to two operators: Stock No. 03578
Model CPF-80 for up to four operators: Stock No. 03527
Requirements for Operation
Compressed Grade D quality breathing air as defined by the Compressed Gas Association commodity specification:
G-7.1 (www.cganet.com).
Description of Operation
The CPF filter is placed in the breathing-air line between the breathing-air source and the respirator supply hose.
The CPF is the point of attachment for the respirator hose.  Air enters the filter through one of the inlet ports.  Moisture is removed by expansion in the outer chamber and is drained through a petcock at the bottom of the unit.  The air passes through a replaceable filter cartridge.  The outlet pressure is controlled by a regulator on the cap and is measured by a gauge downstream from the cartridge.
Advantages
One filter serves multiple respirators
CPF-20 is easily converted to CPF-80 to service additional respirators
Polypropelene filter cartridge casing eliminates corrosion hazard
Filter cartridge lasts up to 3 months.
Filters can be floor or wall mounted.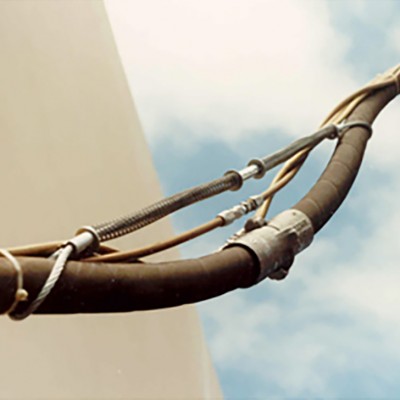 Clemco Blast Hose Safety Cable
Purpose
Clemco blast hose safety cables are used at all coupled connections on the blast hose. The cables support the weight of the blast hose to keep it from pulling the couplings apart or pulling the hose out of the coupling. The cables also help keep the blast hose from whipping about in the event of a coupling failure.
Safety cables should also be used with compressed-air hose connections.
Description of Operation
Attach blast hose safety cables at all coupled connections. Before connecting the couplings, pull back the spring-loadedloop. Loop the two ends of the safety cable around the hoses only — not the remote control lines.
Connect the hose coupling and slide the ends of the safety cable back until the cable is straight and the hose is slightly bent. Safety cables relieve the couplings of the weight of the hose.
Advantages
Helps prevent death, injury, or property damage in the event of coupling failure
Supports blast hose when run vertically or across horizontal spans
Prolongs life of hose by keeping coupling screws from tearing outer casing
Installs quickly without tools at all air and blast hose connections — including those between the hose and blast machine
Prevents hose from whipping in event of coupling failure
<! Main # divs end -->