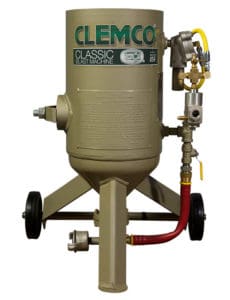 Field-portable, light-duty, industrial,
single-chamber blast machines rated
at 125 psi working pressure. Model 1028,
holds 1/2 cubic foot of media (50 lbs
expendable, mineral abrasive). This unit
is equipped with MSV abrasive metering
valve.
Technical Data Sheet
0.5 Cuft Classic Blast Machine
Parts List and Operation Manual
©2023 All Rights Reserved.