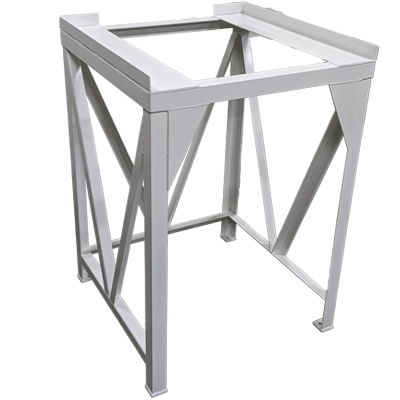 Part Number
HB62-PB
Description
GARNET HOPPER, BASE, 45"L x 45"W x 62"H, ACCOMMODATES 6.5 CU.FT. & BELOW VESSELS, INCLUDES WHITE POWDER COAT FINISH.
FEATURES & BENEFITS
• 4" FAST-FILL™ BUTTERFLY VALVE WITH HOSE.
• FOUR (4) ABRASIVE LEVEL SIGHT GLASSES.
• LIGHTWEIGHT ALUMINUM LID KEEPS CONTAMINANTS OUT.
• TWO (2) DIFFERENT HOPPER BASES AVAILABLE TO ACCOMMODATE
DIFFERENT HEIGHT VESSELS.
• 5,400 LB CAPACITY
• SAVES TIME AND LABOR HANDLING INDIVIDUAL 55 LB BAGS.
• ELIMINATES CLOGS CAUSED FROM PAPER BAGS.
• CAN BE USED FOR WATERJET AND ABRASIVE BLASTING APPLICATIONS.
Technical Data Sheet
©2023 All Rights Reserved.