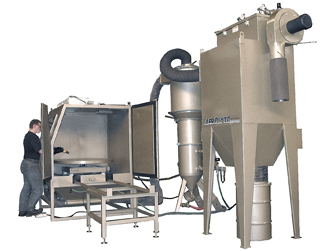 AEROLYTE CABINET SYSTEMS Eliminate Chemical Stripping Dry paint-stripping is a precisely controlled process for removing paint from delicate surfaces. With this system the need for laborious sanding operations or the use of chemicals is a thing of the past. The Aerolyte System of paint stripping uses metered propulsion of plastic particles which are directed at low pressures toward the painted substrate. The velocity and angular shape of the Aerolyte Plastic Media results in breakdown and removal of the paint to effect a cleaned surface. Because the process is operator controlled and sight-oriented, selective layer-by-layer paint removal is possible.
Aerolyte cabinet systems allow for complete surface preparation of subcomponent parts. Each cabinet system incorporates a complete paint-stripping mechanism as well as a media reclaim and dust-collection system designed specifically for use with plastic media. Aerolyte cabinets permit the same precise control over surface preparation activities that is the hallmark of Aerolyte's larger systems. Many quality and high performance features are offered as standard items on the Aerolyte cabinets
Product Literature
©2023 All Rights Reserved.