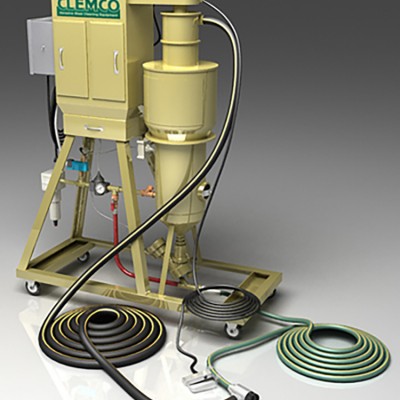 Clemco Super Comet
With a No. 3 nozzle, the Super Comet cleans a path about 1-inch wide, at up to 72 inches per minute. With 20 feet of hose, the four-wheel cart moves easily on any smooth, level surface. The built-in 1/2 cubic foot, ASME-coded pressure vessel features an adjustable metering valve to handle all common non-metallic recyclable abrasives. A storage hopper holds the recovered media and refills the pressure vessel when the operator releases the remote control handle. The system has a built-in moisture separator, pressure regulator, and gauge. The dust collector houses 12 cotton sateen filter tubes.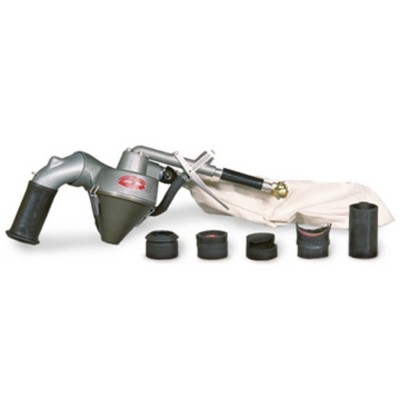 Clemco Educt-O-Matic
Clemco's closed-circuit suction blast tool for spot cleaning, removing weld spatter, and deburring cut metal edges. The hand-portable Educt-OMatic goes anywhere and operates on just 90 cfm of air at 90 psi. The operator controls blasting and recovery with a trigger handle. Pulling the trigger just slightly starts the vacuum recovery. Pulling the trigger all the way starts the suction blast system.
The compact conical hopper contains the abrasive and meters it into the blast system. Air rushing through the Educt-OMatic's mixing chamber draws the abrasive into the airstream and propels it out the nozzle. The blast head swivels to allow blasting at any angle and the rubber boot traps the dust and abrasive. The vacuum captures the reusable abrasive particles and sends the dust and broken abrasive to the dust bag.
Special attachments let you blast inside and outside corners, and on rough surfaces.
Educt-O-Matic Attachments:
• Flat Lip Attachment
• Serrated Attachment
• Edge Attachment
• Angle Attachment
• Master Adaptor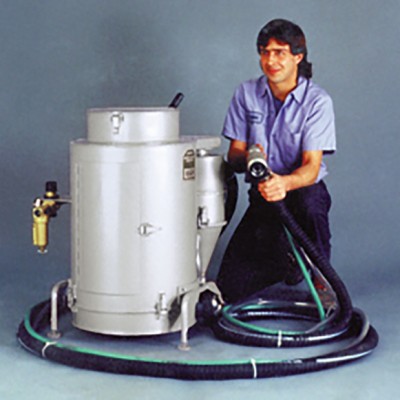 Clemco Comet
The Comet packs the power of an industrial suction blast, recovery, and reclaim system into a package not much larger than a shop vac. The wheel-mounted Comet includes its own pressure regulator, pressure gauge, and moisture separator. The 150-cfm media reclaimer operates on household current – 115v, 1 Ph, 60 Hz. The dust collector houses 14 cotton sateen tubular filters. With 20 feet of recovery hose, the Comet lets the operator move unencumbered about the work site. Specialized brushes allow the Comet to clean inside angles, outside angles, and uneven surfaces. The Comet uses 47 cfm of air at 80 psi, and cleans a path about 1-inch wide, at up to 36 inches per minute. It works best with fine mesh glass bead or aluminum oxide.
<! Main # divs end -->