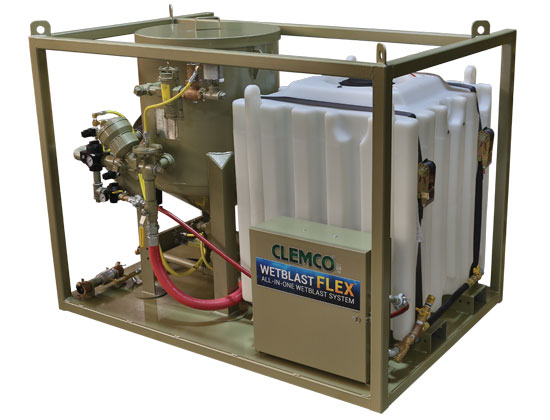 All-in-one wetblasting system includes 6 cubic- foot-capacity blast machine, 120-gallon water storage tank, and pump module mounted on a portable framed platform. The FLEXTM is a portable blast system engineered to provide high-performance blasting with maximum dust suppression. The Wetblast FLEX is packed with features:
Set-up—a single air connection controls all pneumatic functions.
Water and abrasive mix outside the blast machine.
Rugged, portable skid-mounted system with fork pockets and lifting eyes.
Water-to-abrasvie ratio control either at the machine or at the nozzle.
Control media on and off with abrasive cut-off system.
Connect to water—from the tank or municipal supply.
Choice of controls at the nozzle or at the blast machine.
Dry blast at your opinion when application calls for it.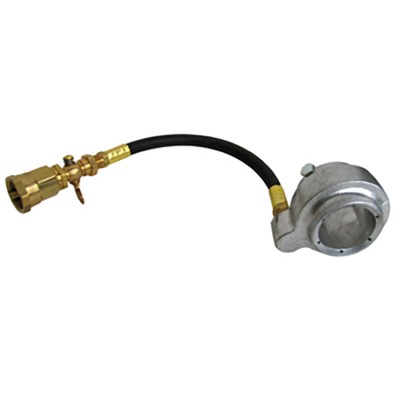 Wetblast Attachment
The Clemco Wetblast Attachment is a practical addition to conventional dry blasting.  Used by building and painting contractors, shipyards and refineries, the Wetblast Attachment eliminates about 80% of the dust without lowering blast efficiency.  It is uniquely suited to jobs in metropolitan areas or cleaning of masonry and concrete surfaces where excessive dust is generated.  When used to blast steel surfaces, a rust inhibitor is recommended.  The inhibitor may be sprayed on the surface immediately after blasting or can be mixed in a water tank equipped with a pump and sprayed through the wetblast head during blasting.
The Wetblast Attachment head, equipped with locking screws for mounting to the barrel of a nozzle, provides an operational advantage by mixing the water into the blast pattern just after air and abrasive leave the nozzle.  This provides a larger blast pattern and eliminates the stoppages occurring with systems which mix or carry an abrasive/water slurry through the blast hose.
The uniform spray of the Clemco Wetblast Attachment is achieved by six 3/32 inch water jets which surround the nozzle and direct the water flow to a point 3 inches in front of the nozzle.  As the water hits the air/abrasive stream it atomizes to envelop the abrasive particles.  The water volume is metered by a full flow petcock located at the blast head.   Pressure ranges of 30 lbs. to 60 lbs. (city water pressure) are acceptable.  50 ft. x 1/4 inch I.D. water hose is available for use with Wetblast Head.  Hose fittings attach to standard water hose or faucet.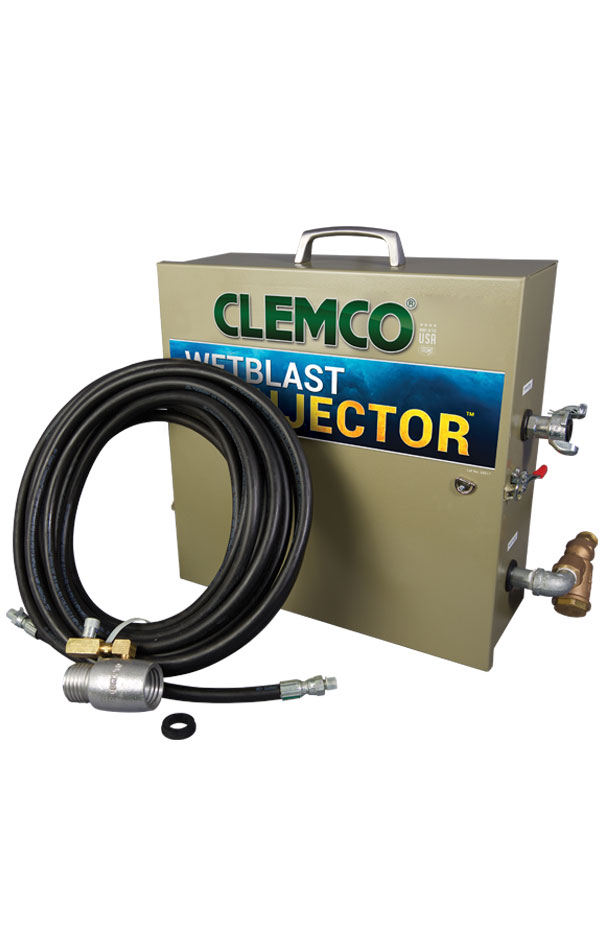 The Wetblast Injector
Economical kit that adds wet-blasting capability to most conventional dry-blast machines.
Mixes water and abrasive at the nozzle for maximum operator control.
Dramatically reduces job-site dust.
Eliminates need for costly containment.
Allows surface rinsing and drying.
For blast machines, 2 CF and larger.
For one or two operators
The Wetblast Injector Kit comes in single- and dual-operator models. The single-operator kit comes with pump assembly, a 50-ft water hose, and nozzle adaptor assembly. The dual-operator kit includes one additional 50-ft length of water hose and nozzle adaptor assembly. These systems can be used with any 2 CF or larger blast machine. The pump and our exclusive injector work together to combine air, abrasive, and water outside of the blast machine for a powerful, dust-controlled blast stream.
The Clemco Wetblast Injector Pump Assembly is easy to set up. With your existing blast machine, install the injector assembly at the nozzle, fill the blast machine with dry abrasive and connect air and water. Abrasive flow volume is adjusted at the metering valve and water injection is controlled at the nozzle for blasting, and when an optional abrasive cut-off system is installed, for rinsing, and drying the surface.
Includes: Nozzle injector assembly, water hose, air-operated, positive-displacement, self-priming, 10:1 pump, which consumes 28 cfm at 100 psi. Water consumption is needle-valve controlled — 0.25 gpm at 60 psi during blasting. Water consumption may be slightly higher or lower based on variables such as nozzle size, blast pressure, condition of surface, material being removed by blasting, and friability of the abrasive. During blasting, water flow can be adjusted to use just enough to control the dust; for wash-down, water flow can be adjusted to a maximum flow of 2.8 gpm. Fittings: ½" air inlet, ¾" water inlet, ½" teed to two ¼" main water outlet connections; ¼" individual water outlet. Water hose: 3/8" ID x 50 ft, rated 1000 psi.
<! Main # divs end -->