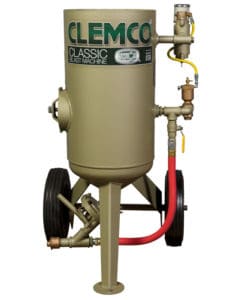 Field-portable, medium-duty, industrial,
single-chamber blast machine rated at 150
psi working pressure. Model 1648 has
1-1/4 inch piping and holds 3 cubic feet of
media (300 lbs expendable, mineral
abrasive). This unit is equipped with FSV
abrasive metering valve and remote controls. Complete system includes coupled
hose, nozzle, supplied air respirator, and
many accessories.
Product Literature
©2023 All Rights Reserved.